Frequently Asked Questions
1. FOR HOW LONG ARE CEDRAL WEATHERBOARDS GUARANTEED?
Cedral weatherboards are guaranteed for 10 years but have a far longer life span (more than 50 years).
2. WHAT TO DO IN CASE OF IMPACT ON A CEDRAL PLANK?
If an impact occurs on a Cedral plank after its installation, there are two solutions possible:
- If the impact is minor (less than a few millimetres): there are pots of touch-up paint to hide the impact.
- If the impact is extensive (more than a few millimetres): efficient replacement solutions for weatherboards are available.
3. WHAT IS CEDRAL'S FIRE RESISTANCE?
Cedral weatherboards are non-flammable and therefore, do not spread fire (A2 classification, s1-d0)
4. IS IT AN INSULATION MATERIAL? ELIGIBLE FOR STATE SUBSIDIES?
Cedral weatherboards are not insulating in themselves.
In order to obtain a satisfactory insulation to comply with state subsidies requirements, you have to include insulating material behind the Cedral weatherboards.
This complete system, including the Cedral weatherboards, which have technical approval, is eligible for state subsidies.
5. WHAT ARE CEDRAL WEATHERBOARDS MADE OF?
Cedral weatherboards are composed of fibre-cement.
This material is made up of cement, water and cellulose fibres.
It enables Cedral weatherboards to be rot-resistant (insensitive to mould or bacteria), to be non-flammable and to be resistant against all weather (rain, wind, snow, UV...).
6. HOW LONG DOES CEDRAL LAST OVER TIME?
Cedral cladding is made up of fibre-cement, which is particularly stable over time with a life span of more than 50 years.
7. IS IT AN ENVIRONMENTALLY-FRIENDLY MATERIAL?
The Etex group is committed to reducing its environmental impact.
To do this, we are setting up different programmes in order to change our practices and meet the environmental necessities of our times.
For example, more than 80% of the raw materials used by our manufacturing plant are transported by inland waterways to reduce our carbon footprint and decrease the number of lorries on the roads.
8. WHAT ARE THE ADVANTAGES OF CEDRAL COMPARED TO SEALANT?
The main advantage of Cedral weatherboards for ventilated façades (a minimum 2 cm air gap behind the weatherboards) is to bring in natural breathing of the walls of your house.
Indeed, it is absolutely essential in old walls to let dampness transfer if you want to avoid deterioration.
With Cedral, the risk of condensation in the wall is removed due to the association of an insulating material and presence of the ventilated air gap. The latter enables excellent evaporation of water vapour.
Maintaining permeability in walls and arranging ventilation of the home are essential conditions for effective management of dampness, risks of condensation and thus leading to sustainable housing and improved summer comfort.
9. WHAT MAINTENANCE DOES CEDRAL NEED?
Maintenance for Cedral weatherboards is very simple compared to other materials: for minor soiling, clean with soft household detergent or slightly soapy water, then rise with clean water.
No need for treatment every year or repainting every two years.
10. WHAT IS THE DIFFERENCE WITH PVC?
Cedral weatherboards do not change in size, they are more resistant and therefore more stable over time.
In addition, Cedral's A2 fire classification enables it not to spread fire.
11. WHAT IS THE DIFFERENCE WITH OTHER FIBRE-CEMENT WEATHERBOARDS?
As Cedral is thicker (10 mm), the weatherboards (see our cladding range) are more shock resistant.
The 10 year Cedral paint guarantee also provides the peace of mind of minimum maintenance.
As Cedral weatherboards are 190 mm wide, you will have to install up to 10 weatherboards less for 100 m².
12. ARE THE PROFILES THE SAME COLOUR AS THE WEATHERBOARDS?
Yes, the profiles are available in the entire colour range (except stained).
13. CAN I STORE THE WEATHERBOARDS OUTSIDE?
No.
14. DO YOU HAVE TO PLACE AN INSULATING MATERIAL BEHIND CEDRAL?
Yes.
15. HOW CAN I CLEAN CEDRAL?
Cedral can be cleaned with a solution of clean water with 10% white vinegar added.
For light soiling, cleaning with soft household detergent or slightly soapy water, followed by rinsing with clean water is sufficient.
16. CAN CEDRAL WEATHERBOARDS BE REPAINTED?
If you want to change the colour of your weatherboards after a few years, there are efficient repainting solutions to apply a new coat of acrylic paint on coloured weatherboards.
If necessary you can refer to our installation guides to find out how to do it and the paint that we recommend.
You can also contact our technical department.
17. HOW DO YOU CUT CEDRAL?
We recommend using appropriate tools for cutting Cedral weatherboards.
Circular saw: saw blade with carbide teeth Bosch T141 HM type.
Portable circular saw: diamond saw blade with Leitz fibre-cement tab.
In all cases, sawing and drilling must be done in a dry place and the Cedral board must be supported.
It is important to get rid of sawing and drilling dust straight away.
18. HOW DO I CALCULATE HOW MANY WEATHERBOARDS I NEED?
Contact one of our stockists and they will create a dedicated proposal for you.
19. HOW MUCH DOES CEDRAL COST PER M2 ?
Contact one of our stockists and they will create a dedicated proposal for you.
20. HOW THICK IS CEDRAL?
10 mm for Cedral Lap, 12 mm for Cedral Click (see our cladding range).
21. HOW LONG ARE CEDRAL WEATHERBOARDS?
Cedral weatherboards are 3600 mm long (see our cladding range).
22. WHERE CAN I BUY CEDRAL?
You will find a list of our stockists here.
See for yourself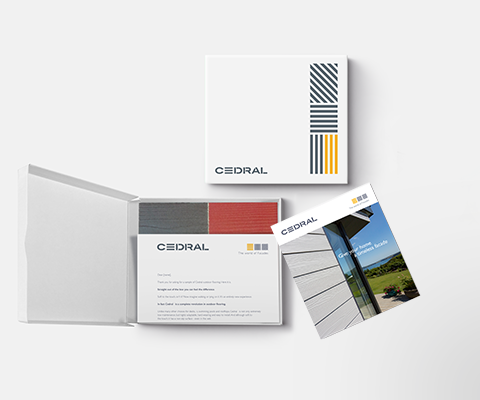 See for yourself
Planning to build your dream home? Renovating your existing home? Cedral is here to help you with a wide range of colours and accessories. Thanks to our many design options, Cedral helps you create your individual finish. Request your sample to find out.
What our customers say...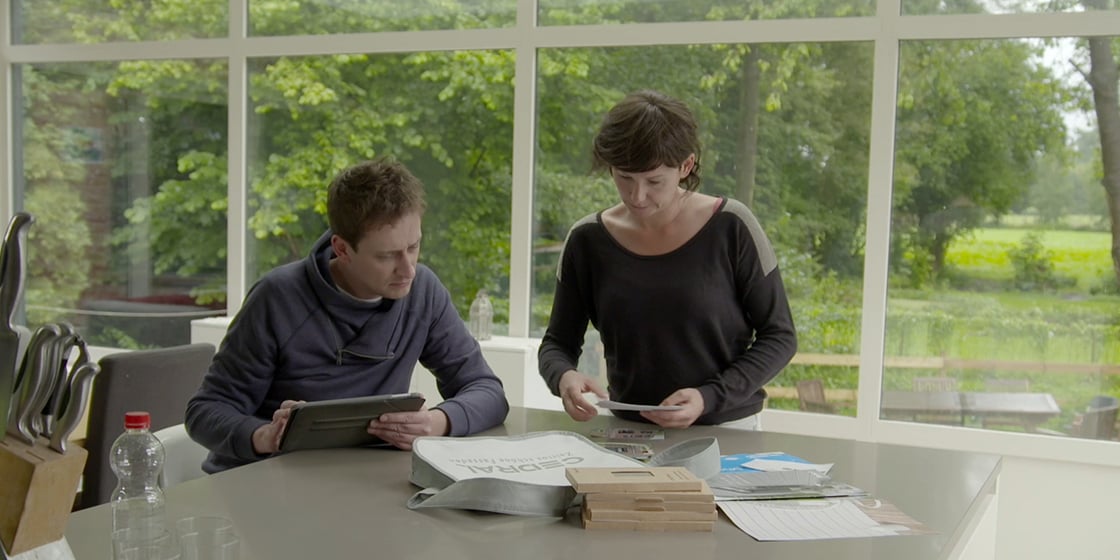 What our customers say...
Click or Lap, smooth or wood effect, whatever your choice, with Cedral you have the guarantee of a breathtaking result. Watch our testimonial videos from home owners and installers who have chosen our products and learn why they decided to trust us.
Need help?
Find your local Cedral advisor!
Find someone to help you with your project near your area.