Plastic, wood or fibre cement - Which material is the best choice?
The construction of a terrace offers many creative possibilities. Even at the planning stage of the terrace floor, builders can choose from a wide range of common materials. In addition to the classic planks made of wood or plastic, fibre cement has become increasingly established as a material for terrace planks in recent years. To help you judge how our Cedral fibre cement decking performs compared to other materials, we have listed the most important differences here.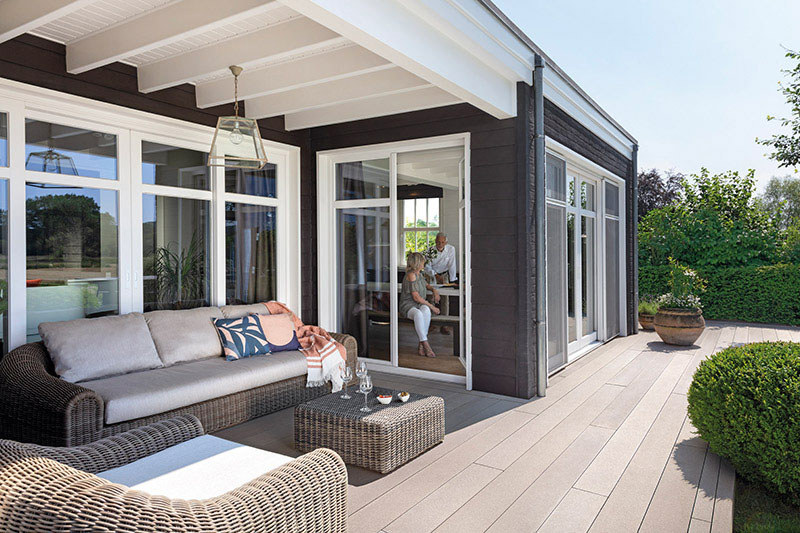 Fibre cement, wood or plastic - The materials in comparison
In order to be able to compare the properties of the materials, we have evaluated them in different categories:
Durability / Longevity
Heat deformation
With wood or plastic, strong temperature fluctuations can cause deformations, bulges etc. This is not the case with fibre cement planks such as the Cedral Terrace thanks to its high resistance to heat and frost.
Colour design
Since fibre cement is not simply dyed or painted, but is completely coloured through, the material offers a unique uniform colouring. This also allows a natural "fading" of the colour over time, similar to wood.
Durability
The structural load-bearing capacity of wood or plastic cannot keep up with that of fibre cement, especially in the long term. An average service life of approx. 30 years for a Cedral Terrace is therefore a quite realistic value.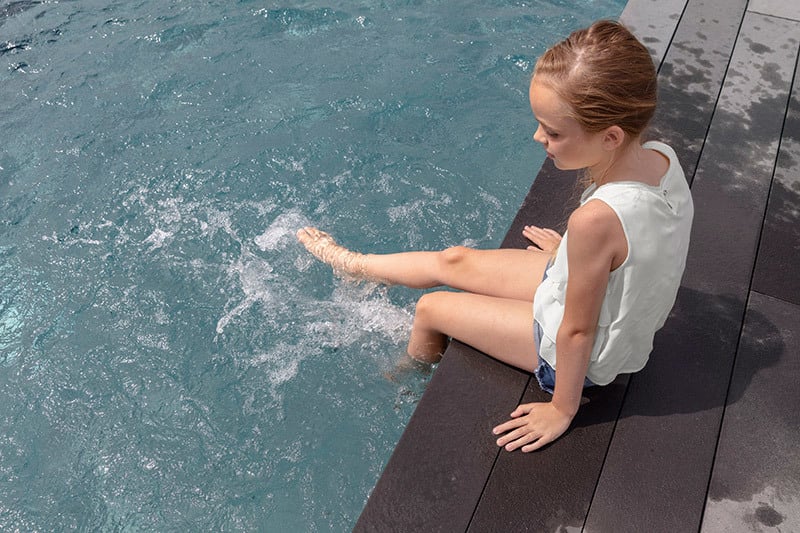 Durability / Resistance
Resistance to fire
Fibre cement is classified as a non-combustible building material and therefore does not catch fire and retains its shape even under extreme heat. Neither plastic nor wood can offer this.
Resistance to pests
Untreated or insufficiently treated wood always has a latent susceptibility to damage by pests. This risk does not exist for synthetic and fibre-cement planks.
Resistance to weathering
While wood is relatively susceptible to weathering, plastic is much more resistant in comparison. Nevertheless, the materials do not come close to the weather resistance of the fibre cement planks of a Cedral Terrace.
Laying / Assembly
Design
Wood and plastic can be processed very easily. However, when working with fibre cement, protective measures against the inhalation of dust are necessary.
Installation
All materials are available in variants that are easy to lay and install. This is ensured by the Cedral Terrace's practical clip system, which allows intuitive installation.
Material care
Both plastic and fibre-cement floorboards convince with a very low maintenance effort to maintain appearance and function. With planks made of wood, considerably more work has to be done to avoid signs of wear.
Conclusion:
As you can see, our Cedral Terrace as a fibre-cement terrace floor is ahead of the usual alternatives made of wood or plastic. Of course, it is up to you to decide which factors are decisive in deciding for or against a specific material.
Get your free sample now
Make your life easy
by ordering a Terrace sample!