Design Collection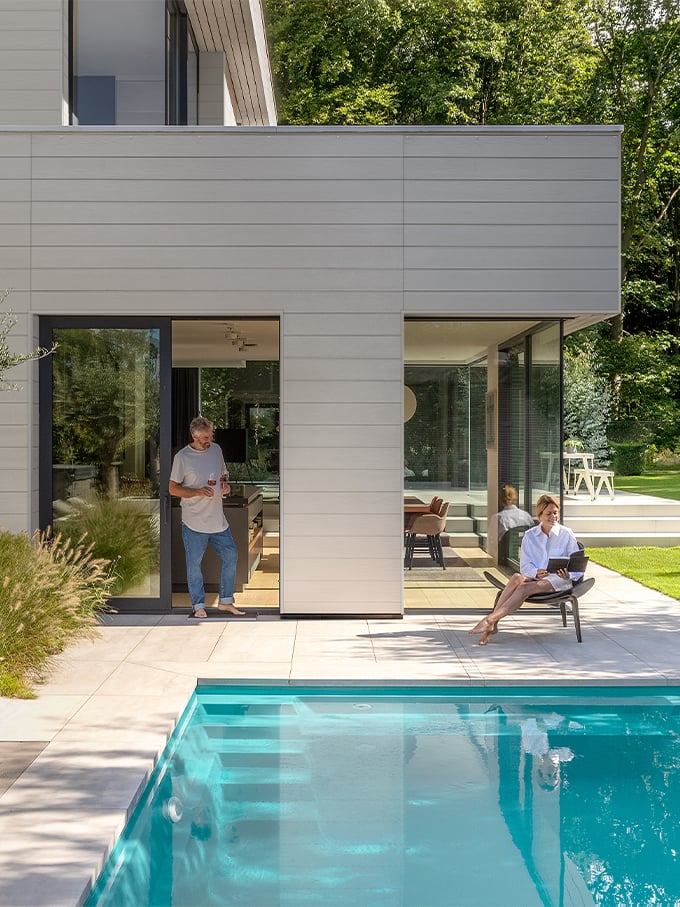 Design Collection
A modern statement
White
C01
White for a pure and timeless look. The colour serves as a blank canvas to emphasise the architectural design. It never goes out of style and provides optimal light reflection, which visually enlarges the size of the house. With a touch of sunlight, surfaces brighten, making white a great choice for shaded or north-facing homes.
minimalistic aesthetic
the impression of larger and brighter surfaces
ideal for shaded or north-facing exteriors
Silver Grey
C51
Silver grey for timelessness. The serene and dignified colour exudes simplicity and emphasises the architectural design. Its ability to reflect light makes the impression of a more extensive space, making a house appear larger than it is and helps keep it cooler in the summer. Particularly suitable for exteriors that are shaded or face north.
accentuates architectural details
luminous and gives a spacious feel
ideal for shaded or north-facing exteriors
Steel Grey
C15
Steel grey for uncompromising style. The calm, confident, and dignified colour serves as a versatile backdrop to complement existing materials for a modern and stylish look. A reliable choice for architecturally designed homes to create visually appealing combinations.
modern, yet timeless
emanates cool elegance
pairs well with other textures and colours
Slate Grey
C18
Slate grey for a solid look. A refined colour with subtle blue undertones, inspired by slate material. Strong and steady, it exudes a sense of sophistication and maturity, giving homes a modern look while complementing different colours and textures. When combined with light tones, slate grey creates a striking visual contrast.
a strong visual impact or a strong aesthetic value
suits different architectural styles
a reliable and timeless investment
Platinum Grey
C05
Platinum grey for modern balance. The colour radiates balance, style and stability. It instantly modernises the look of a home and can be used in architecture to create a visually striking contrast when combined with darker greys or black.
a contemporary look
adds depth and visual interest to any design
combines well with other colours and materials
Black
C50
Black for a strong visual identity. Using black in architectural design creates a modern aesthetic with minimal effort, resulting in a bold and striking look. Due to its non-reflective properties, surfaces appear smaller. A window or door trim can be effectively enhanced as the colour appealingly contrasts with other materials and textures.
a strong visual impact
versatile and timeless
light and heat absorption
Focused
The Design Collection empowers to create a focused, minimalist aesthetic that stands the test of time.
Effortless
The colours provide an appealing contrast to their surroundings whilst remaining easy to use.
Iconic
Signature detailing on the house leaves a lasting impression on its design.