Need fresh air? Create your very own roof-terrace haven
We spend most of our lives indoor, so when the weather's good, we want to stay outdoor and enjoy the fresh air. But what if you live in the city? In that case, a roof terrace can provide you with that coveted outdoor space, where you can relax or entertain guests in the sun. Discover our tips for creating the perfect roof terrace.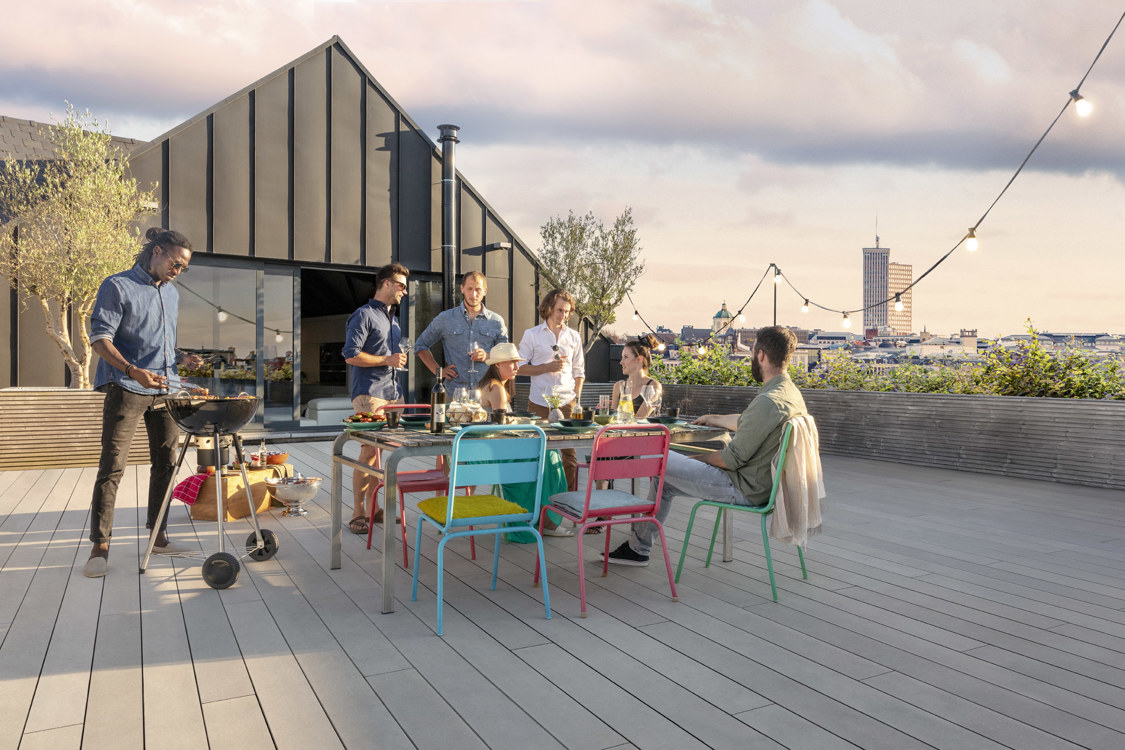 Before you decide
In general, roof structures are strong enough to support a terrace. This means every roof can be converted into a terrace, your private outdoor haven peacefully pitched above the hustle and bustle of the city, often with nice views of the surroundings. But before you get carried away, ask yourself a few practical questions:
How often would you use the terrace? Consider the weather. · What roof environment do you have? Check noise, pollution, shade and sun.
Check the surroundings of your roof. Do you look into neighbours' windows, terraces, gardens?
How would you get access to your roof terrace? Would you need stairs, pierce walls or ceilings?
Which areas of your roof could you use to build your terrace? Technically, it is easiest of course to create a terrace on an existing flat roof, provided it has the required stability and load-bearing capacity. But also if you have a sloped roof, you can create flat areas by cutting into the roof or raising the external wall.
Check with an architect or structural engineer what the possibilities are in your specific case.
Get planning permission
If you change the exterior and structure of your building or roof, in most countries, you will need to ask for planning permission from the relevant building authorities. Besides safety requirements (see below), the authorities will usually also check if your terrace does not overlook or overshadow your neighbours' property. Anyway, it is always nice to check with your direct neighbours if they are ok with your plans, regardless of the official regulations, to avoid possible trouble at a later stage. As your roof terrace becomes part of your roof, you will also need to consider the fire-safety and waterproofing regulations. Generally, so-called 'hard roofing' needs to be resistant to flying sparks and radiant heat. As for waterproofing, you need to create a sufficient slope on your terrace so that the water drains smoothly and the sealing does not become porous due to standing water.
Create a safe and comfortable roof terrace
When you sorted the building permit, you can start creating your terrace. We recommend a flooring option with excellent fire behaviour, such as Cedral Terrace. These decking boards are made of fibre cement, a durable composite material that does not burn, generate smoke or create flaming droplets. So you can barbecue on your terrace without problems. To create easy access, foresee steps or stairs with standard-size risers and threads to avoid tripping. Also foresee sufficient head space above your stairs, because you don't want to bang your head while bringing up a tray of drinks. For safety, you need to foresee a robust railing around your terrace. Also consider the risk of children or pets that could slip through or over the railing. Durability and easy maintenance are also determining factors in the choice of your terrace flooring. Also here, Cedral Terrace is a safe bet.The fibre-cement planks only require minimal maintenance, no regular staining is needed. What's more, Cedral building materials have a life expectancy of 50 years.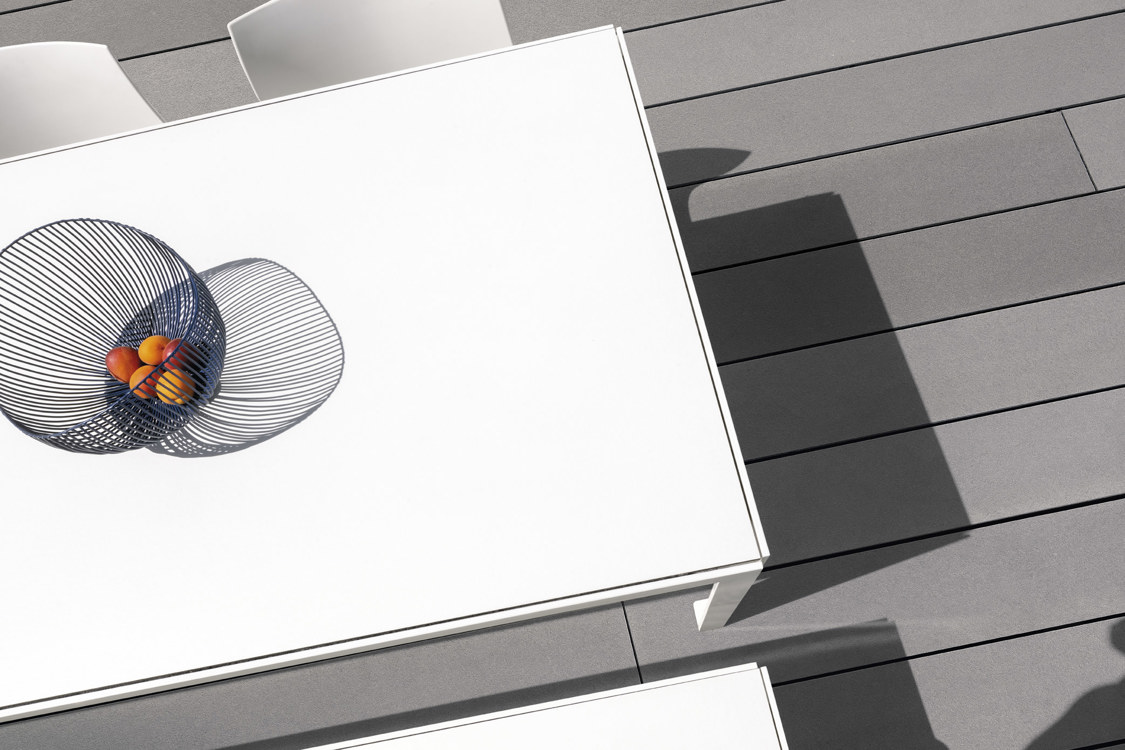 The finishing touches
When your terrace structure is ready, you can start turning it into a little oasis above the city. Plants are great to create a pleasant outdoor feeling. However, do keep the maximum weight-bearing capacity of your roof in mind as big potted plants are heavy. Plants create a cosy area, but also protect you from prying eyes. You can also place a lattice screen around your terrace to create more privacy. There are several systems on the market, made from wood, bamboo, synthetic material etc. Also think of protection from the sun (and wind) for your seating area.
Get your free sample now
Make your life easy
by ordering a Terrace sample!