The 4 Cedral innovative, durable assets
Fibre cement is an original material used in the form of cladding boards. It consists of a combination of sand, cement and wood fibre. And it has more than one innovative and environmentally-friendly property for your façade!
1. It is made in a unique way
Fibre cement found a new lease of life in the 1990s. It is made of sand, cement and cellulose. After preparation, these materials are mixed in a tank with water and additives. This results in a paste, which is then deposited on a conveyor belt that passes under rollers. The water is partly removed and a semi-rigid film is formed. This film is then cut into sheets, which are passed through drying booths to be hardened. Finally, it is cut into boards and coloured. The material is both rigid (thanks to the cement) and flexible (thanks to the wood fibres). In other words, innovative. Take a look...
2. It is very environmentally friendly
Fibre cement cladding uses natural raw materials (see above) produced locally. Cedral boards therefore do not contain any environmentally harmful substances. The boards also benefit from an energy-efficient manufacturing process that does not release any harmful agents. Supplied on pallets, it is light and easy to transport to construction sites.
Fibre cement is also characterised by its longevity, so you can expect a façade for life. And this is one of the 6 reasons for choosing Cedral façade strips.
3. It is ideal for creating external insulation
Opting for external insulation is often considered easier. By doing the opposite, i.e. insulating walls on the inside, condensation often becomes a problem, which must then be dealt with by increasing ventilation. Placing the insulation on the external gables reduces this problem. A final covering is then needed to protect this insulating layer. Cedral cladding boards are ideal because they are easy to install, last a long time and require little maintenance. This method can be used in both new construction and renovation.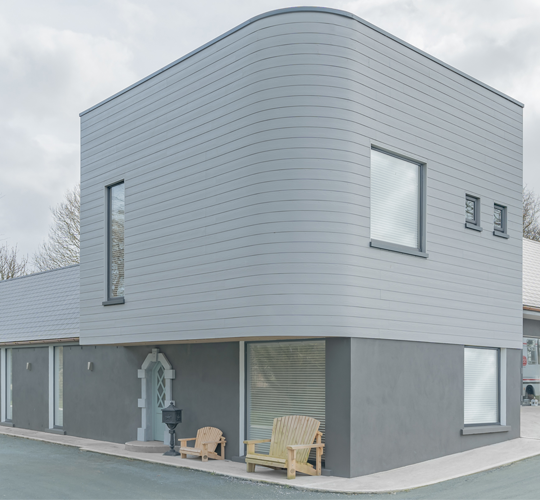 4. It enables inventive architectural applications
Fibre-cement boards can be applied in many different ways. They can be laid vertically (Nordic style) or horizontally (American style). They can be interlocked to obtain a flat surface or, on the other hand, they can be overlapped, like roof tiles. They can be ordered with a perfectly smooth finish or with a design imitating the grain of cedar wood. Finally, they are available in a range of 21 colours for maximum design scope. Their ease of use gives architects a great deal of creative freedom.
To discover all the qualities of this innovative and durable material, ask for your free Cedral sample!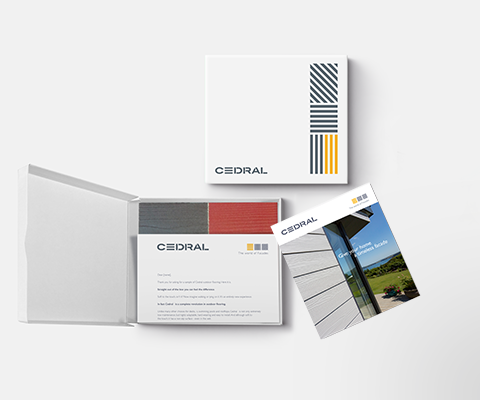 Request a free sample to see for yourself
Studying product information is interesting, but at some point, you want to see and feel for yourself what Cedral has to offer. Request a free sample of your favourite colour and finish to help you take that decision. It will be your first major step towards your new facade.
Need help?
Find your local Cedral advisor!
Find someone to help you with your project near your area.