Fibre cement: a combination of ethics, practicality and aesthetics
A beautiful façade that is environmentally friendly and easy to maintain - all possible with Cedral! Robert Pöllen and his family, who live in Germany, have experienced this.
Consumers' expectations in terms of environmental friendliness are increasingly high. It is our duty in the building sector to take these into account. But not at the expense of aesthetics! And, yes, a material can be high quality, environmentally friendly and easy to maintain...
A well-thought-out project
No one wants to redo their façade every 10 years. Choosing a high-quality material is therefore essential. Robert Pöllen was well aware of this when he made his decision. But the father of three also had other objectives: to limit the maintenance of his façade and its impact on the environment.
He therefore opted for fibre cement. "What's nice," he explains, "is that its texture and appearance is very high quality."
A visualisation tool
On the other hand, it's difficult for a non-professional to imagine the result before the work has been carried out - especially just from photos of products up on the Internet. This is why Cedral offers a simulation tool on its website.
Robert was delighted with how simple it is to use. All you have to do is upload a few photos of your home to the platform, then choose a product and a colour. "When you're just looking at a bare building, without being able to see what it will look like afterwards, it can be quite difficult to visualise it. Here it made it very easy for us to envision it."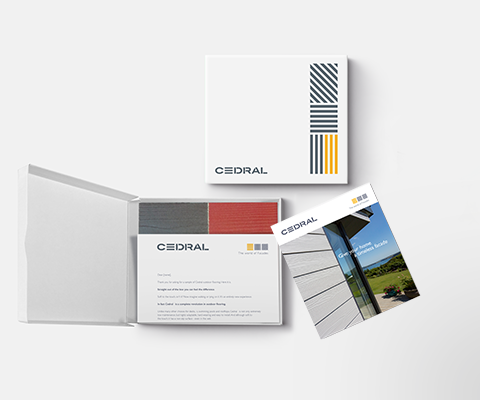 A sample to make certain
But of course there is nothing like seeing and touching the material to get an idea. Cedral is well aware of this. So it is also possible to request a sample in the desired colour and finish on the website. Delivered quickly in a nice little box, this will undoubtedly convince you to take the plunge!
Need help?
Find your local Cedral advisor!
Find someone to help you with your project near your area.