Cedral Terrace - The journey to your new terrace
Are you thinking about building a terrace at home or renovating your existing terrace from scratch? Then you've come to the right place - Cedral Terrace is a strong option for any builder who has the highest demands on product quality, workmanship and appearance. On this page, we take you on a journey - the journey towards your new, high-quality Cedral terrace.
Join us on the journey and discover why you should choose this particular terrace. Visit the most important waypoints on the journey together with us and learn more about the many qualities of our product - we will accompany you to your destination.
Your terrace travel guide: start the journey to your terrace right now! If you have any questions, suggestions or requests regarding our decking boards, we are always happy to help!
1. Order a sample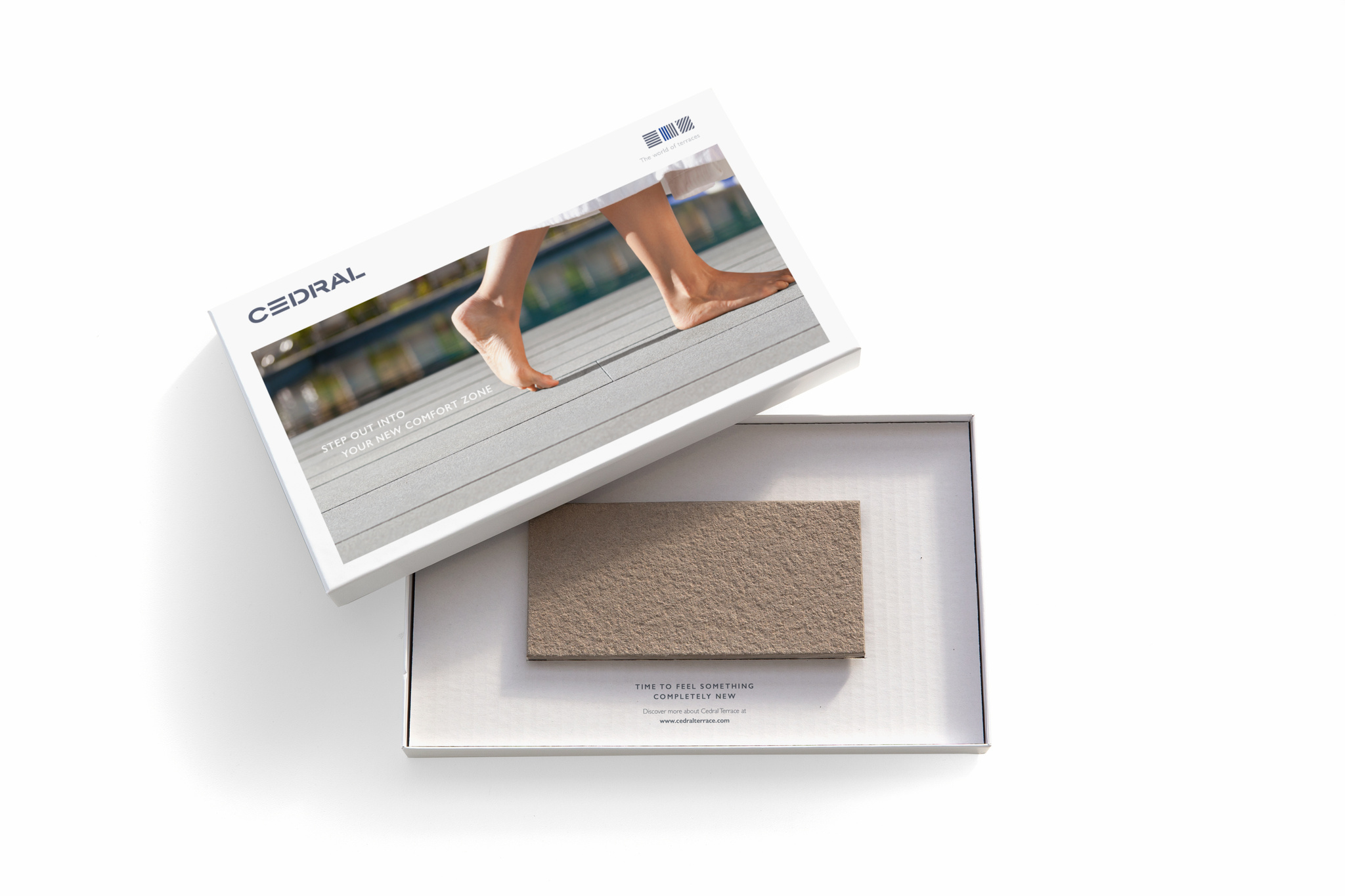 1. Order a sample
We are convinced that our Cedral decking boards will meet all your quality requirements. Whichever style you prefer - with a total of four different colour shades that harmonise with the overall look of your house and garden, there is sure to be an option to suit your taste. In addition, the planks are also available in two different widths. Whether in red, sand or various shades of grey - order a sample today and see for yourself the unique feel of the decking boards.
2. Get to know the advantages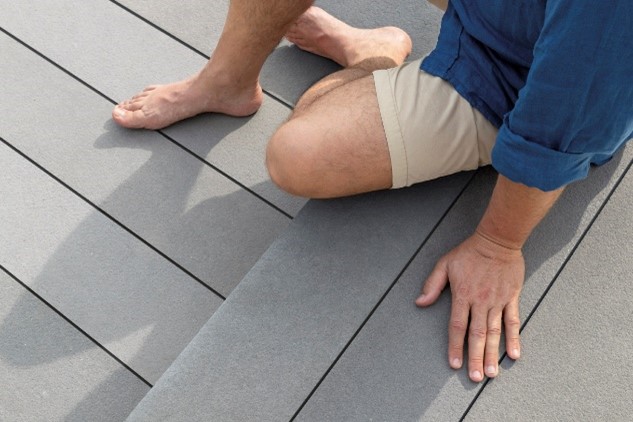 2. Get to know the advantages
With a product sample, you can get a first impression of our Cedral decking boards - in addition to their look and feel, the boards also offer numerous other qualities that make them stylish, practical all-rounders for outdoor use. From the high stability to the low tendency to splinter, from the non-slip surface to the resistance to all adverse weather conditions - we don't just offer you a terrace, but the strong terrace floor of your choice for use in your home garden.
3. Be inspired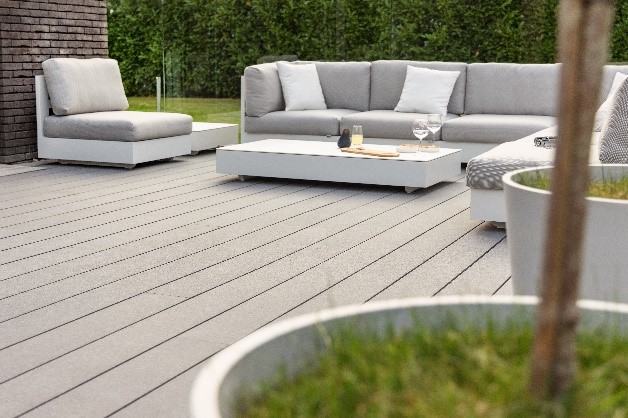 3. Be inspired
A patio is both a meeting place and a retreat - and each one has its own unique charm. The best proof of this is our many satisfied customers: Let our references inspire you and plan your terrace exactly according to your ideas. Whether your terrace is to be modelled on a reference object or you have a completely individual design in mind - discover the world of Cedral terrace boards in our reference collection.
3. Make a plan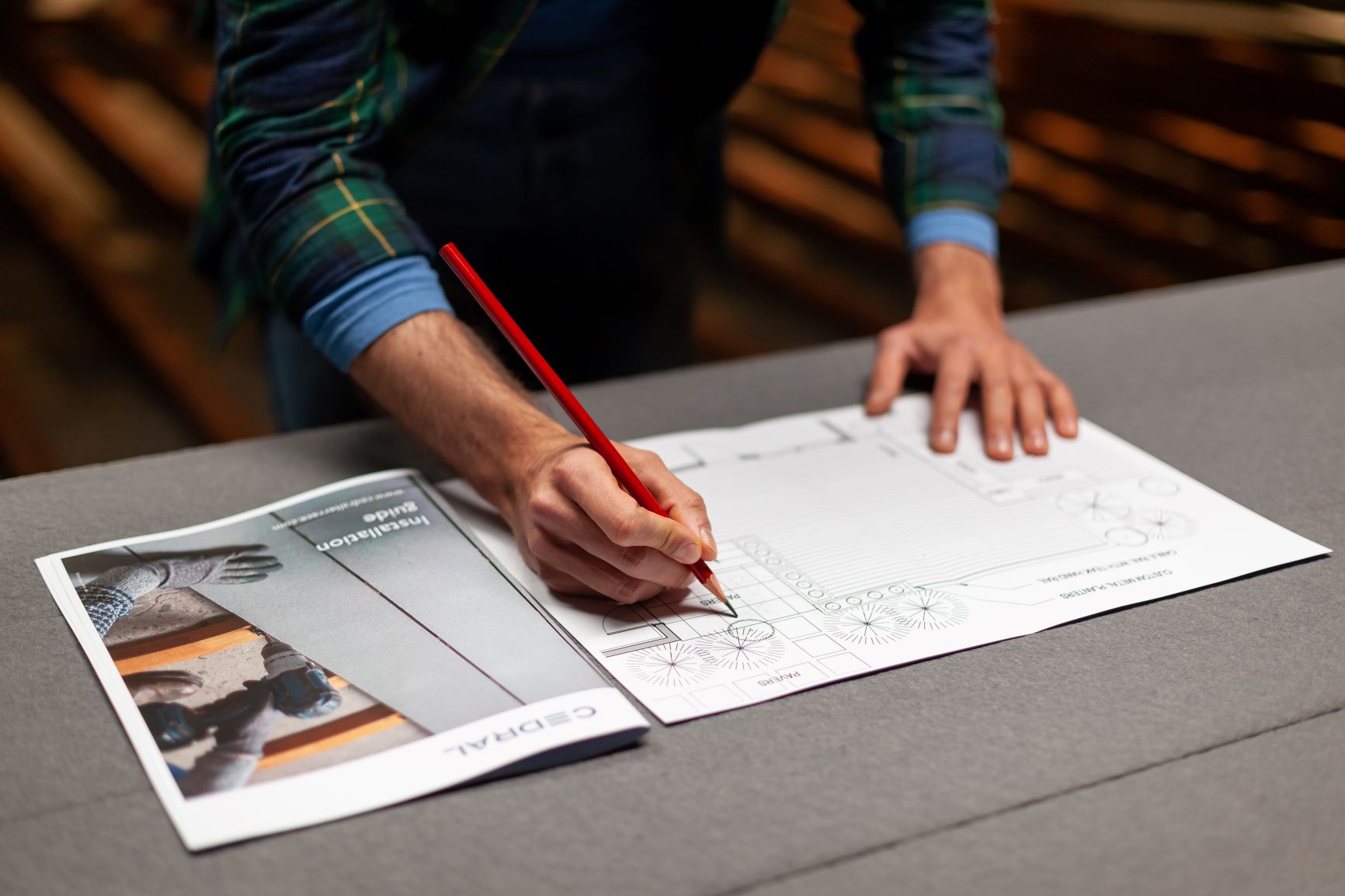 3. Make a plan
For precise planning, you should draw up a floor plan of the terrace during the preparation phase. In addition to determining the required material and tools, this plan will help you to define the ideal installation sequence and to carry out possible detailed planning at an early stage. In this way, you can ensure that everything goes according to plan during the final installation of the decking boards, that all parts fit and that the end result is a visually attractive and solid construction. You will find a template for this in our installation guidelines on page 19.
5. Calculate your Budget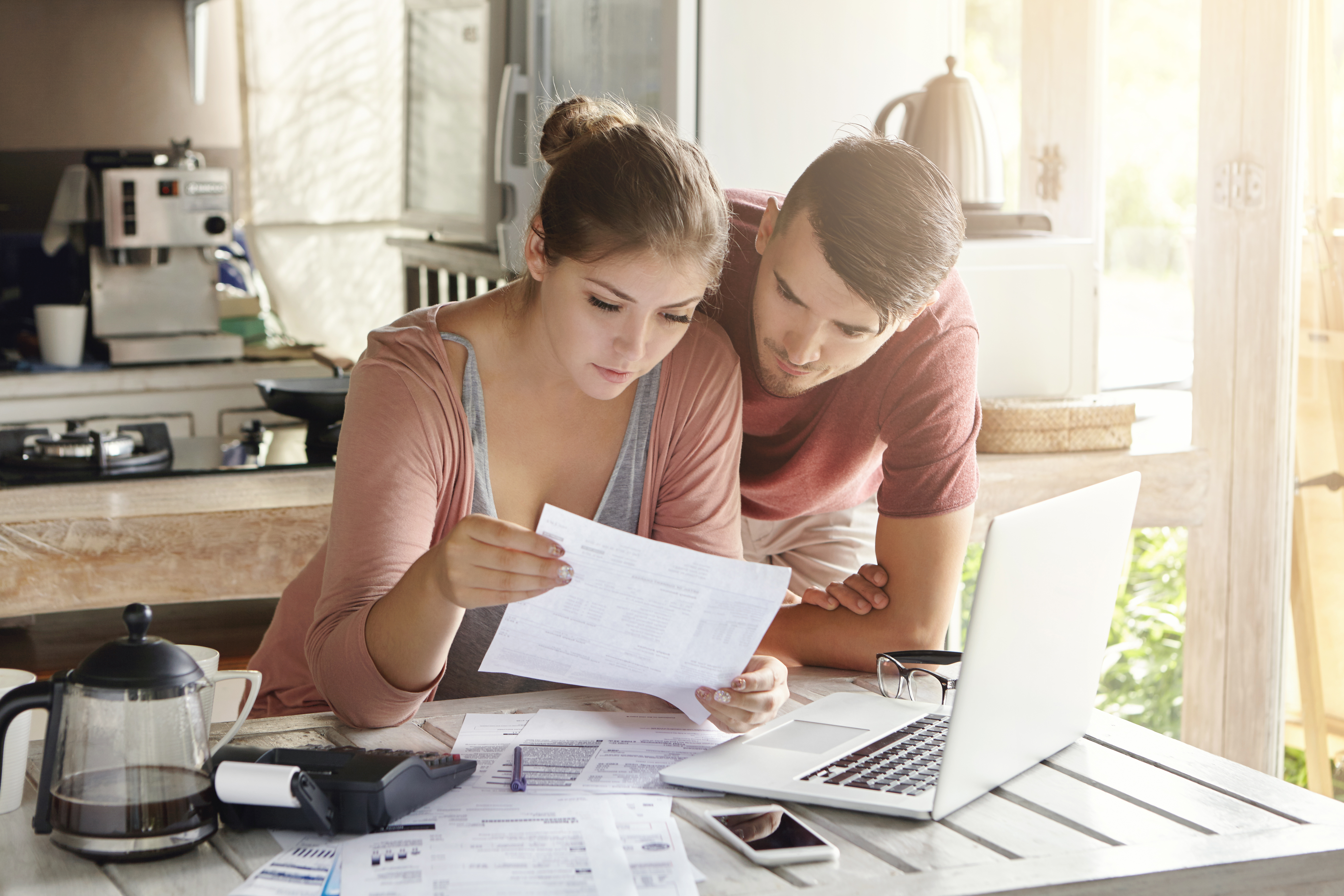 5. Calculate your Budget
A Cedral terrace of 20 m² usually costs 3000 to 4000 € plus VAT, including all Cedral materials. This is comparable to a terrace made of a high quality wood such as IPE, but without the annual maintenance intervals. Individual project requirements can increase the price significantly. If you would like to reduce the cost of your new terrace, it is also possible to install the Cedral decking boards yourself. For an individual price calculation, contact a specialist dealer in your area directly.
6. Our dealer near you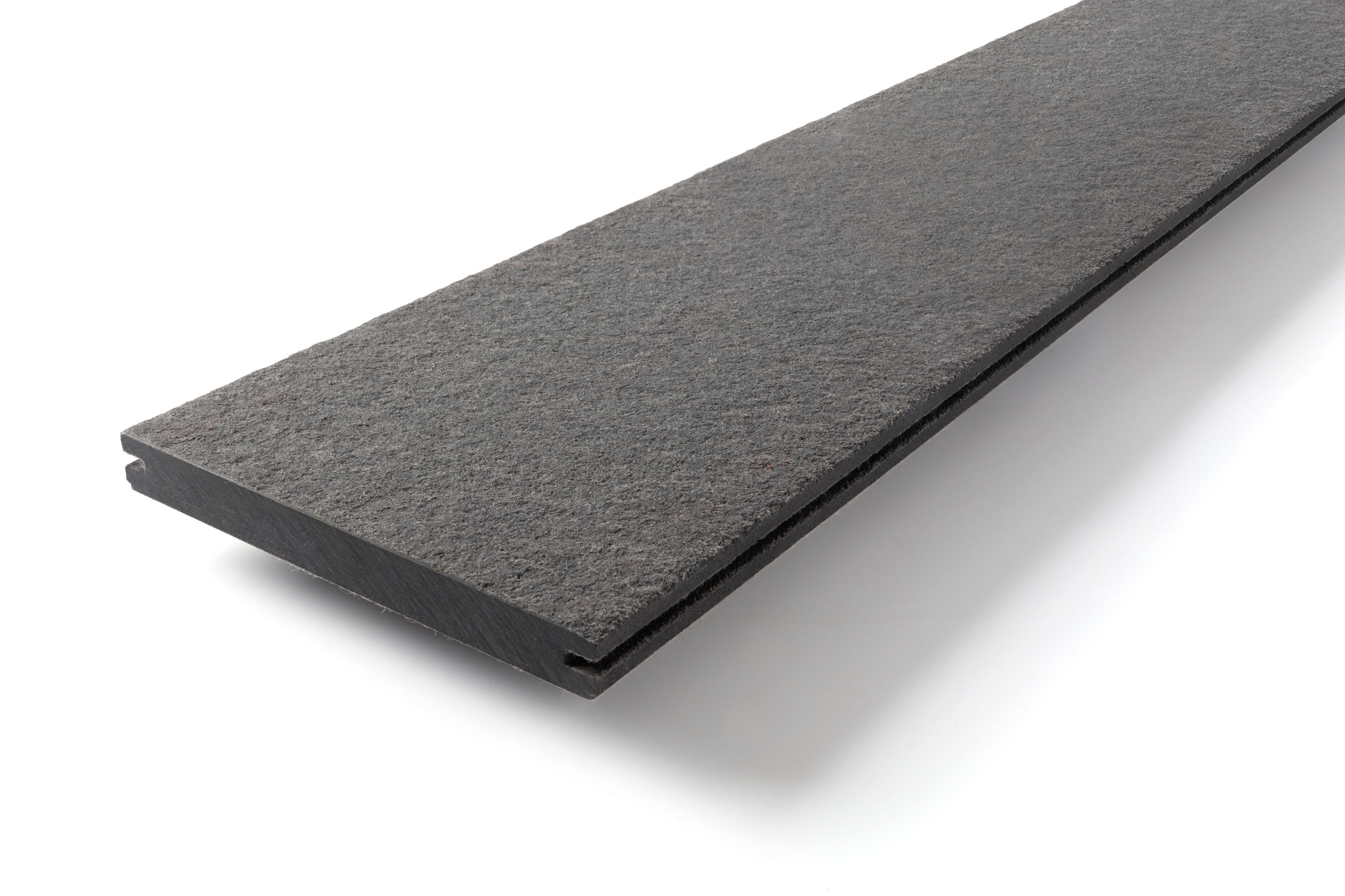 6. Our dealer near you
You have decided on our terrace and have also calculated how much material you will need to produce the terrace. Now, of course, you still need the appropriate material: With our postcode search, you can quickly and easily find a dealer near you who can give you additional advice and price information. There is no dealer near you or the desired planks are not available locally? No problem - our service team will be happy to advise you and work with you to find a solution for fast and accurate implementation.
7. The assembly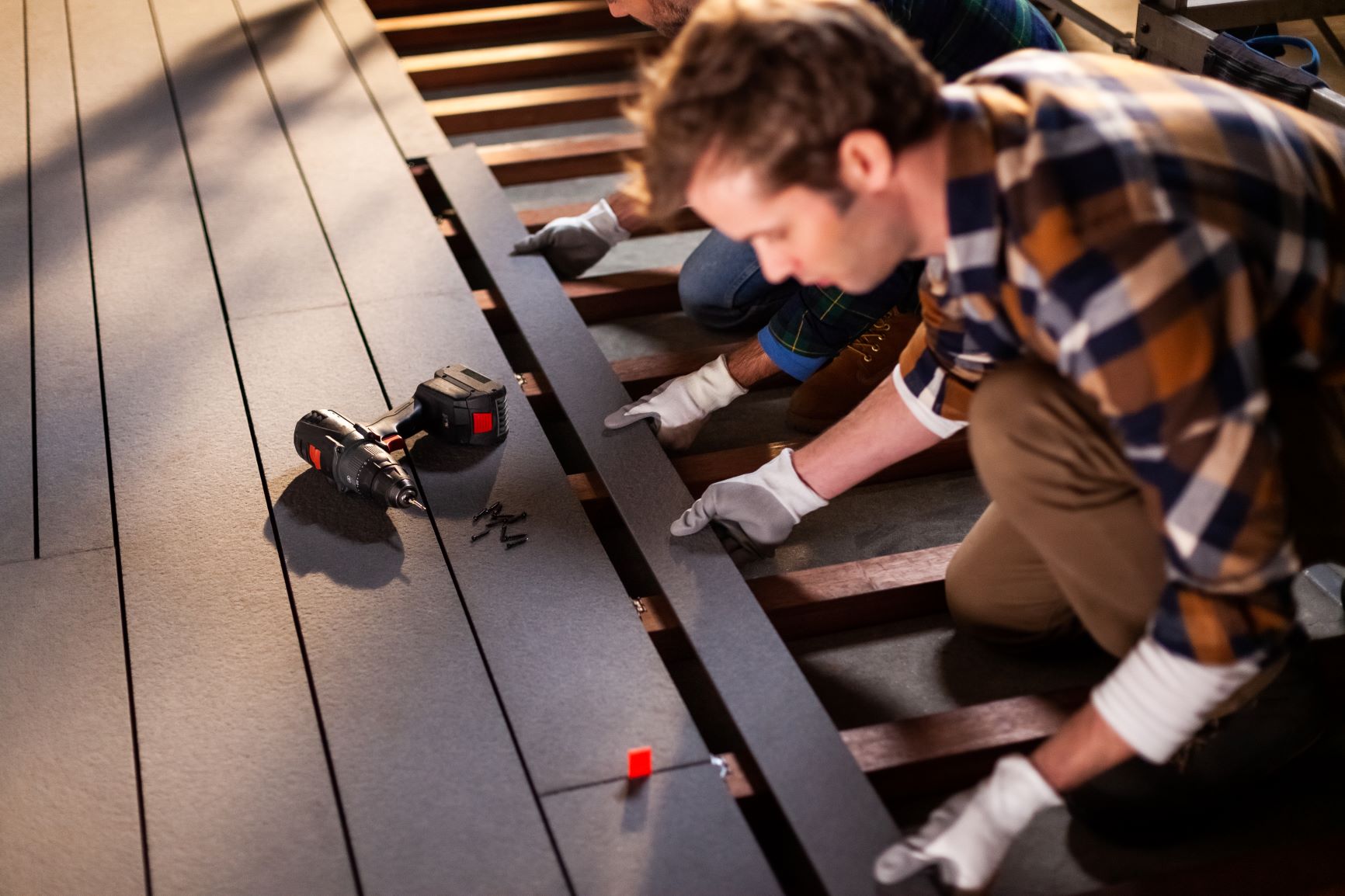 7. The assembly
Once you have ordered the material for your patio, you have two options:
- Laying the terrace yourself: You lay your terrace yourself with the help of our laying instructions. Thanks to the easy handling of the planks and the practical connection via clamps, no specialist knowledge is required for the installation. Special tools are also unnecessary when working on the terrace.
- Have your terrace laid: You commission a professional to lay your terrace. You can find a competent installer near you in our installer search. This way, you can be on the safe side when it comes to installation and you can rely on performance guarantees in case there are any problems during installation.
9. Enjoy your new terrace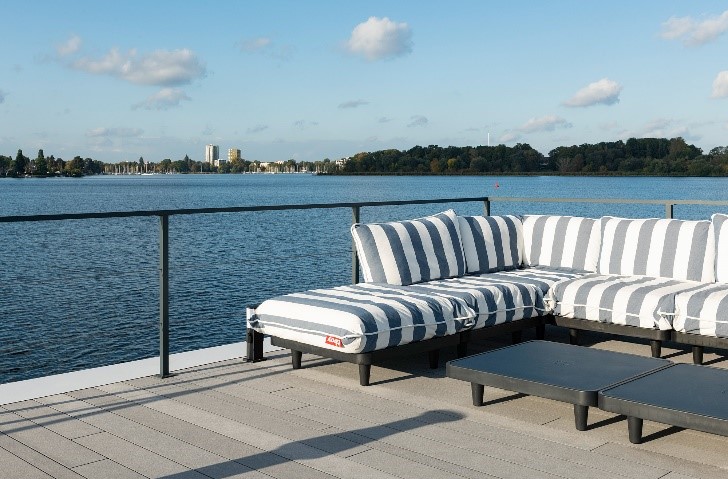 9. Enjoy your new terrace
On the journey to your new, high-quality terrace, you have finally arrived at your destination. Now it's up to you to enjoy the fruits of your labour. Settle in comfortably on your Cedral terrace and enjoy the uniquely pleasant feeling of walking barefoot over the excellently crafted terrace boards. You have chosen this product for a good reason - now treat yourself to a well-deserved break on your stylish new terrace. We congratulate you on your decision and wish you much pleasure.
Do you have further questions about our product, are you interested in a consultation or are you looking for further references? We also answer many details about the professional ordering, storage and installation of the decking boards on our FAQ page. If you have any further questions, please do not hesitate to contact us directly - we are available quickly and personally for individual advice.
Get your free sample now
Make your life easy
by ordering a Terrace sample!